Who Is Purple Roundy?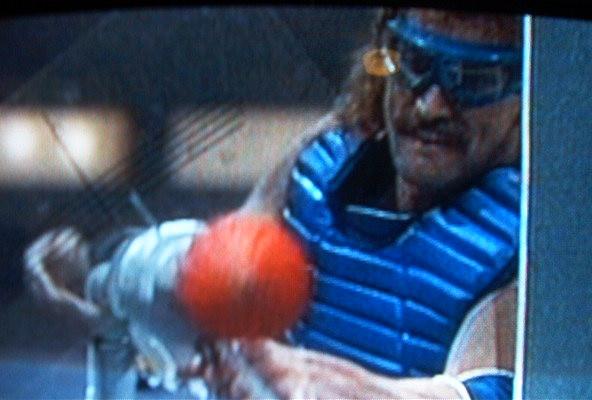 If you know about Purple Roundy, please share your story...for now by email: webmaster +a--t+ purpleroundy.com
UDPATE 9/27/2007 - Doing some cleanup, I found that I actually have gotten emails pertaining to Mr. Roundy. Considering this new development, I am going to contact those individuals and try to put something worthwhile in this space. The forwarder for the email address above got screwy and sent them to the wrong address, so I apologize to those who sent emails and did not get a response.

One email claims to have a video of the man himself.

One emailer claims to KNOW Purple Roundy!

Another asks if I am he for which this site was started...I am not. But who is?
Updates coming within the next couple of weeks decade.
Links: Fan Art
Emails Received:
my thoguhts on purple roundy
Purple Roundy's performance on American Gladiators was nothing short of legendary. His competitiveness and desire is an inspiration to anyone who wants compete and or better themselves.
- Dave, IL
i know purple roundy
Purple Roundy is a legend.
- David H, DailyBuzz.tv
Who is...?
I just watched Purple Roundy lose on American Gladiators. He said at the end of the episode that he wanted to go home, and that being there is a lot harder than watching on the couch. He then said "Way to go" to his opponent who had defeated him, and offered a forearm-smash-cum-high-five that turned gay. What's up with this site?
- Sean F.
Found a video of Purple Roundy on American Gladiators
So I was watching American Gladiators on ESPN the other day and some dude named Purple Roundy was on. I thought his name was too funny to NOT google. Apparently there are some other people who think it's equally as funny. Either way, my house mates are taking a video of him now. I'll host it on my website and email you a link once I've got it uploaded (may be a day or two - I'm lazy).
-Zok
purple?
Purple, Is that you?
-Chance
Purple Roundy - received 2-1-08
Purple Roundy's performance on American Gladiators rightfully belongs on ESPN Classic. The only thing funnier than Roundy's allegedly-permed mullet? His occupation: Demolition Derby Driver.
-James
my story - received 2-4-08
I actually remember watching his performance live. "Performance" doesn't do him justice because he is beyond outstanding. His athleticism and determination are that of legend, and only one metaphor can do his victory justice: the German invasion of France. He just dominated.
-Andrew
received 5-6-08
I'm friends with Purple. He only lives a few blocks away from where I live.
Great guy.
-sk8
received 5-13-08
i love your website and know other purple roundy devotees that would greatly appreciate a video of his awesome performance. thanks in advance
received 9-8-2008
I first saw Purple Roundy on a rerun many years ago and found him to be the most unforgettable American Gladiators contestant of all time. Today I was wondering if anyone else thought he was awesome, and am pleased to see that purpleroundy.com exists.
Please keep up the awesome website! It is a tribute to a fantastic contestant on a fantastic TV show.
-CSmith

P.S. I've even asked a friend of mine if he would be Purple Roundy for Halloween. I swear he looks just like him.
received 11-21-2008
A friend of mine and I saw Purple Roundy when we were in seventh grade. We immediately wrote a song about him, which was never recorded nor performed. I have no recollection of the lyrics, but it was an amazing moment. I can't believe that there are other Purple Roundy fans out there!
Alex
received 2-16-2009
Don't know who's web site this is, but Purple works out at the Pure Fitness at 32nd Street and Greenway in Phoenix. Fantastic, likable guy. Great father, too.
Richard
----
Looks like I really need to get things together. I still have all the email addresses above and will try to contact some for more information in the coming weeks/months/years/epochs. - Webmaster